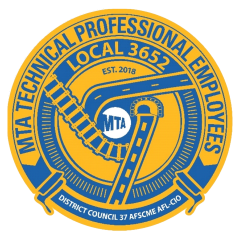 Local 3652 is the Metropolitan Transportation Authority (MTA) Technical Professional Employees Union.
Local 3652 represents engineers, architects, planners, project managers and
other Scientific and related technical professional employees of the MTA New York City
Transit. Our members are responsible for designing, maintaining, planning and supervising
construction of station and bus infrastructure.  They work around the clock, seven days a week,
to sustain 4,451 buses, 6,418 subway cars and 472 stations.
Local 3652 proudly represents the following Civil Service titles:
Administrative Project Managers, Administrative Engineers, Architects, Asbestos Handler
Supervisors, Assistant Architects, Assistant Civil Engineers, Assistant Electrical Engineers,
Assistant Mechanical Engineers, Assistant Environmental Engineers, Assistant Chemical
Engineers, Assistant Railroad Signal Specialists, Assistant Transit Management Analysts,
Associate Project Managers, Associate Railroad Signal Specialists, Associate Inspectors,
Associate Engineering Technicians, Associate Transit Management Analysts, City Planners,
Civil Engineers, Chemical Engineers, Engineering Technicians, Electrical Engineers,
Environmental Engineers, Mechanical Engineers, Project Managers, Transit Railcar Technology
Specialist.
Affiliation: District Council 37 of the American Federation of State, County and Municipal
Employees (AFSCME), AFL-CIO